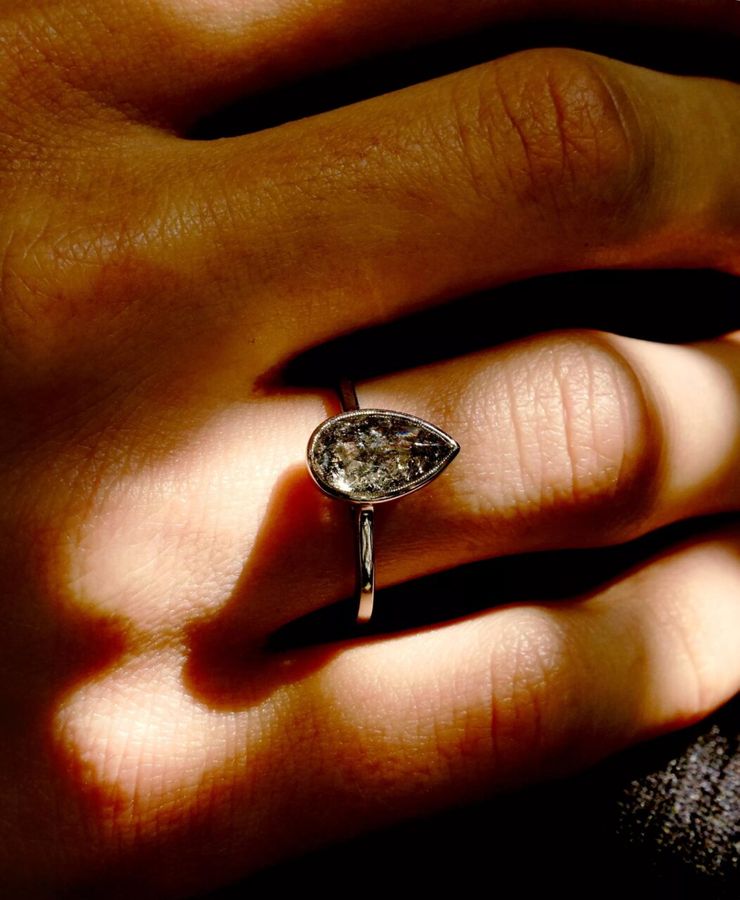 01.11.23
The Ultimate Guide to Salt and Pepper Diamonds
Whether it's a pop culture song or the diamond industry's decades of advertising dollars swaying you, it would come as no surprise if you think flawless diamonds are the only way to go when shopping for engagement rings. But we're here to break the news: salt and pepper diamonds are the next big thing.
In fact, while we're happy to help you find an eye-clean (or flawless) diamond if that's your true desire, we're a little bit head over heels for salt and pepper diamonds. We love that each salt and pepper diamond boldly shows its unique characteristics and moody nature, standing out from a sea of crystal clear diamonds. But since they aren't really the "norm" it can be hard to know how exactly to shop for a salt and pepper diamond, and what to look for. If you're considering purchasing one of these stunning stones, it's important to understand their authenticity, pricing, value, symbolism, and how to shop for them. Consider this your ultimate guide.
Ready to Shop for Salt and Pepper Diamonds?
Because every salt and pepper diamond is totally unique, you'll want to get eyes on it before you buy. That's what our diamond concierge is here to help with. Just email hello@frankdarling.com and we'll curate 5-7 exclusive stones to match what you're looking for, or book a virtual or offline appointment at our New York salon to view certified lab-grown and natural diamonds in person. You can even design your own custom salt and pepper diamond ring—and get a free sketch!